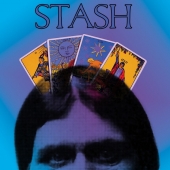 Rasputin's Stash
Stash - Rsd Release
Label: Family Groove
Genre: Freestyle / Nu Jazz / Funk / Afro
Availability
LP €30.99

Dispatched within 5-10 working days
Rescued from a haze of drugs, alcohol and questionable women comes a potent blend of heavy Chicago Funk, Modern Soul & Psychedelia. Influential recordings from the group's sought-after Funk classics have been sampled by Beck, The Chemical Brothers, Jim Jones, Raekwon & Leaders of The New School.

'Stash' is a previously unreleased 1976 album as mystical and mysterious as the great Rasputin himself. There is very little information available detailing where these recordings originated from or the reason why the album was never made available to the public.

This unusual release certainly breaks with the trend in this day and age of an overwhelming amount of reissues from an over-saturated & over-curated marketplace with liner notes that sometimes take longer to read than the length of time it takes to actually listen to the music.

Cut directly to vinyl from the recently found master tapes, this music presents material from the band at their artistic peak and the last recordings before Rasputin's Stash members went on to record Crystal Winds First Flight and Attitude, Belief and Determination.