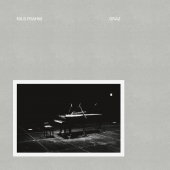 Frahm Nils
Graz
Label: Erased Tapes
Genre: Electronica / Ambient / Experimental
Availability
LP €27.99

Dispatched within 5-10 working days
Piano Day 2021 sees Nils Frahm surprise the world with his Erased Tapes debut. Wait, what? How? Anyone who has seen the trail blazing sonic pioneer live will know Nils likes to deadpan a joke. Graz is in fact the first studio album he recorded for the label back in 2009, that somehow remained a secret… until now.

Nils Frahm has quietly changed the musical landscape, reincarnating the centuries old figure of a pianist-composer for a new generation of music fans. As Nils' word-of-mouth popularity grew and grew, so did the pop-culture profile of his instrument. He founded Piano Day with a team of like-minded friends in 2015 to help that process, some years releasing an album of piano recordings to celebrate one of humankind's greatest inventions. Graz is one such record; an unheard snapshot of a young Nils recorded at Mumuth, the University of Music and Performing Arts Graz, in 2009 as part of the thesis Conversations for Piano and Room produced by Thomas Geiger, which received an award in the Classical Surround Recording category at the 127th AES Convention in New York.

Whilst at the time it was decided to keep the grand piano recordings from the Graz sessions locked away and instead focus on his close mic'ed, dampened piano explorations which would become his acclaimed studio album Felt in 2011, two of the pieces — most notably Hammers — lived on as part of his live set, and were expanded on and re-recorded as part of his breakthrough 2013 record Spaces (a collage of field recordings from concerts which broke the Fourth Wall and included audience coughs). Over his mercurial career, Nils has pushed and pulled at the boundaries and parameters of his prolific work like that. He's physically changed his piano (the softened prepared strings of Felt) played with a modified body (Screws recorded with 9 fingers and a broken thumb) played with scale (Solo recorded on the 3.7 metre high Klavins M370) and with the different layers of formats (last year's Tripping with Nils Frahm nested his studio setup inside a live performance, concert film and live album). Now with Graz he has found the final frontier for play: time itself and his own discography.

Graz is a moment of time at the very beginning of Nils' quiet revolution. The essential genius is already evident; the harmonic language of classical, and the immediacy of jazz. Nils seems to pull down each idea moment by moment, gently, to not scare away the muse.

"A grand piano is a particular kind of beast to play, which will only sound refined and beautiful if you command a strong control over the keyboard. Each slight change in touch results in a different timbre, which will be rewarded when used wisely and will be your trapdoor when you fail to hold the horses. I remember how I had to squeeze the music out of the grand piano in the Graz sessions, and while I enjoy listening to it now, I kept these recordings secret for a good while – they sound like a much younger version of myself to me, and a lot of the musical expressions from that time would be impossible for me to replicate today. Close friends whom I had shared the record with reminded me of it once in a while, and some of the pieces got released in other versions on the album Spaces in the meantime. But somehow, any piece of music you create wants to get out there in order to find you, which is why I'm glad to share this beast with you and do hope you enjoy listening to it too! Love, Nils"