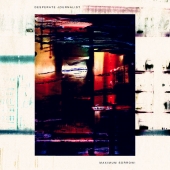 Desperate Journalist
Maximum Sorrow!
Label: Fierce Panda
Genre: Rock / Pop
Availability
LP 180gr €29.99

Dispatched within 5-10 working days

It was a damned Good Friday, as Easter 2021 saw the return of noirish alt.goth roustabouts Desperate Journalist, who piled back into the eerily empty marketplace with a brand new single called Fault on April 2nd. Fault is the first track to be hauled from Desperate Journalist's thoroughly forthright fourth album, Maximum Sorrow!, recorded entirely in Crouch End in the midst of the Covid pandemic.

Driven along by Simon Drowner's ear-popping bassline, Fault finds the quartet in impeccably brutalist form, all banshee howls and self-lacerating lyrics from singer Jo Bevan: "And those teenage hangups are hard to beat / When your closet is piled up with defeat," she snaps at one especially prickly point, as alongside her guitarist Rob Hardy and drummer Caz Hellbent can only add fiery fuel to the sonic flamings.

It fits, too: like much of the rest of the album Fault is both playful and, like the finest public house pint glass, half-full of rage; where swirling Heart Of Glass synths are serenaded by shattered lyrics and 'Poison Pen' manages to put down put-down lines like: "You are oh so tall and sesquipedalian," without somehow sounding like a pompous arse. Because this is Desperate Journalist in hyper-dynamic form, super sleek, but never sickly slick; ambitious and expansive, but still self-effacingly DIY to the core. If the 'Maximum Sorrow!' title is punchy then the music ripples with alt.rock muscle built up over seven years of relentless gigging and releases, like a fierce panther on the prowl.

Comes in a gatefold cover with all lyrics printed on the inner cover pages.