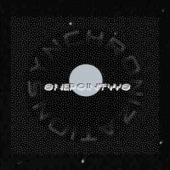 Onepointwo
Synchronization
Label: Subexotic
Genre: Electronica / Ambient / Experimental
Konstantinos Giazlas (aka Onepointwo) hails from Thessaloniki, Greece, and sites influences from the late 50s electronic experimental sounds, motorik, krautrock, lush shoegaze melodies and modern electronica.

Talking about his creative outlook, Kostas says: "I continually look to emulate a musical journey into space, time, memories and frequencies". This journey is conducted with the use of minimal electronics, abstract and distorted shortwave radio signals, dystopian soundscapes, all carefully wrung out from criss-crossing digital and analogue sources, fused with a passion for heavy effects and percussive sounds.

Fashioned from a collection of tracks hitherto believed to be lost to a cruel computer malfunction, Synchronization was salvaged from a final reboot. No editing, no tweaking, no second chance - these tracks have reached terminal velocity. Luck is on our side, as what remains reveals a series of intricate yet powerful soundscapes, with finely wrought motifs that repeat and build to create Onepointwo's trademark shimmering psychedelic impact.