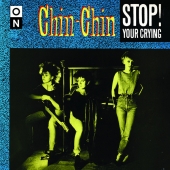 Chin - Chin
Stop! Your Crying
Label: Optic Nerve
Genre: 80s Wave / Rock / Pop / Punk
Availability
7" €12.99

Dispatched within 5-10 working days
3 track 7" Strictly Limited Half Blue/Half Yellow Vinyl Includes postcard and poster.

Part of the Optic Sevens 3.0 Reissue Series.

Chin-Chin, an all-female group consisting of Karin (guitar/ vocals), Esther (bass/vocals) and Marie-Anne (drums/ vocals) was formed in 1982 in Biel, Switzerland.

Originally released in 1986 on 53rd & 3rd, these 3 tracks make their first appearance on 7". Look out for their forthcoming Singles and BBC Sessions album on Sealed Records.