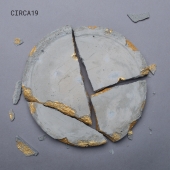 Circa19
Circa19
Label: Polytropon
Genre: Electronica / Ambient / Experimental
Circa 19
Thanos Kazantzis(Drums)/Dimos Vryzas(Violin,FX's)
The duet Circa 19 was formed in Thessaloniki in the beginning of 2019.
Between February-May 2019, they recorded their first album,released by Polytropon Recordings.
The album is characterized by the combination of percussive instruments/objects and the sounds of the acoustic violin along with some
electronic effects.
The duet is forming a unified sound by making clear choices in the moment of creation.