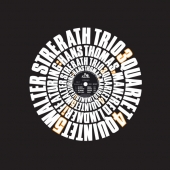 Strerath Walter
Trio Quartet Quintet
Label: Sonorama
Genre: Jazz / Avant Garde
Availability
LP €23.99

Dispatched within 5-10 working days
Legendary Modern Jazz album from Germany and the true holy grail of European LPs. First session recording by the internationally awarded pianist Walter Strerath and his brilliant sidemen from 1969, originally released with a beautiful silk-screen printed cover on the tiny "Jazz Groove" label in an edition of a few hundred copies only. Outstanding self penned tunes by the trio and Hans Thomas (trumpet/ fluegelhorn) plus Christian Lindner (saxes). A monument of a jazz album with originals booking in at 3.000$ on ebay. Remastered 2008, 1:1 fold out cover (punched!) with original liner notes.

Modern Jazz will never die and it doesn`t smell funny anymore: The original vinyl pressing of "Walter Strerath - Trio Quartet Quintet" reached the highest amounts of all sold records in December 2008 on ebay.com, in third place and priced at 3.000$ behind two vintage albums of the Beatles and Pink Floyd. For many years the biggest international jazz collectors have tried to hunt down this first album by a commonly unknown (and nearly forgotten) jazz pianist from the small German village named Odenkirchen. The original album was manufactured in a tiny edition of 200 copies only and is impossible to find nowadays.

The unique LP contains 100% of self-penned tunes and stands out as some brilliant Coltranish style jazz from Europe, many dare to say the only REAL one of its kind. The usual Walter Strerath Trio performed regionally since the mid 60s and their line-up was enhanced with trumpet, fluegelhorn and saxes just for this recording session. No other jazz album from Europe is heavier in demand than this masterpiece of modern jazz by an excellent but unknown band, recorded in the tranquil German town Iserlohn.

Now Sonorama Records comes up with a 1:1 repressing of this vanished album - exactly 40 years after the original release saw the light of day on Karlheinz Klueters` legendary "jazz groove" label. The reissue label payed attention to a nearly identical reproduction of the (formerly silk screen-printed) gatefold cover in silver and grey colour and with original center punch. All original recordings were carefully mastered and even the CD cover adapts the exceptional artistic design by Uwe Loesch and Juergen Hillmer from Duesseldorf, appearing very close to the original artwork.

Walter Strerath earned himself the reputation as one of the best jazz pianists from Europe. The talented boy developed a deeper interest for jazz after his classical piano education and imagined the foundation of his own trio. He soon became enthusiastic about the records by Oscar Peterson and attended the concerts of many big American artists in Germany. As early as 1958 Walter Strerath presented his first solo performances. He also joined the popular Jazzbandballs and even became a member of the regional jazz club in Moenchengladbach, but still worked in his usual job as an industrial manager. Between 1963 and 1967 he collected several national awards as an amateur and performed at the Friedrich-Gulda-Festival in Vienna. This time a jury around the great Duke Ellington voted him for the best jazz pianist of the festival. After the trios` second place at the amateur festival in Zuerich, the musicians started extensive touring in many European countries. Then a new trio formation recorded the second and final album "Fly to Brazil" in 1975, on which the musicians cultivated their very own style of bossa nova jazz. Walter Strerath passed away completely unexpected at the age of 39, due to a heart attack on the 23rd of September 1981. A South American tour was already organized for 1982 but could not happen anymore because of his sudden death. (Ekkehart Fleischhammer/ References: Newspaper "Rheinische Post" of September 25th 1981, "Moenchengladbacher Koepfe" Volume 2).
Die-cut cover.

New press.