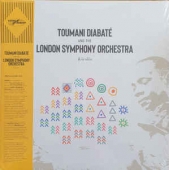 Diabate Toumani And The London Symphony Orchestra
Korolen
Label: World Circuit
Genre: World Music
Availability
LP 180gr €27.99

Dispatched within 5-10 working days
Kôrôlén is a very special collaboration between two titans in music: Toumani Diabaté, the Grammy-winning Malian kora virtuoso, and the London Symphony Orchestra, renowned worldwide for their performances of orchestral music on record, film and stage.
Diabaté, a griot whose musical lineage stretches back generations, is well known as one of the most creative musicians on the African continent, and is almost single-handedly responsible for bringing the iconic sound of the kora to worldwide audiences. No stranger to a genre-defying collaboration, he has recorded two Grammy-winning albums alongside desert blues pioneer Ali Farka Touré, as well as projects with Taj Mahal, Björk, Béla Fleck, Damon Albarn and Afrocubism.
Commissioned as a special project by the Barbican Centre in London and produced by World Circuit, these recordings feature Diabaté and his group of eminent Malian musicians (including Kasse Mady Diabaté and Lassana Diabaté), accompanied by the soaring presence of the LSO, in dedicated arrangements by Nico Muhly and Ian Gardiner and conducted by Clark Rundell.
The title bestowed by Diabaté on this unique and groundbreaking release, 'Kôrôlén', translates from the Mandinka language as 'ancestral' - a fitting theme for an album that brings together ancient griot melodies and Western orchestral arrangements, resulting in an achingly beautiful and fresh Afro-neo-classical sound that will appeal to admirers of African, traditional and new classical, and ambient music.