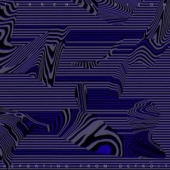 Dixon Terrence
Reporting From Detroit
Label: Rush Hour
Genre: Techno / Tech-House / House / Trance
Availability
LP x2 +12\" €24.99

In Stock
Seven years after the classic 'Theater of a Confused Mind' (as Population One), Detroit techno phenomenon Terrence Dixon is back on Rush Hour with a new album, this time under his own name.

It would be a massive understatement to say we're proud of this one. After all our whole operation was named after one of Dixon's early tracks ('Rush Hour' originally appeared on a double EP called 'Hippnotic Culture' on fellow Detroit legend Claude Young's Utensil Records in 1995) and 'Reporting from Detroit' again finds the maestro in outstanding form.

'Reporting from Detroit' is another prime example of the distinctly unique sound language Dixon has developed over the last three decades - defiant, forward-thinking afrofuturist techno that could only have been made in the Motor City.

But this is not just mere Detroit techno - it's a sound language that's unique to Dixon. An instantly recognizable high-octane sonic language fueled by frantic funk that's constantly pushing the boundaries of machine music without ever losing the connection to the magic of the Detroit streets at night.

PS. The first pressing of 'Reporting from Detroit comes with an extra 12" containing two bonus tracks ('Electronic Travellers' and 'Growth and Development'), so we'd strongly advise you to get yours now. (RO)



The first pressing is limited and holds an extra record with 2 extra tracks called "Electronic Travellers" & "Growth And Development". Comes with a download code (including the bonus tracks)!