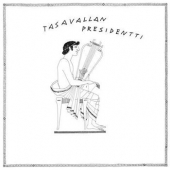 Tasavallan Presidentti
Tasavallan Presidentti
Label: Svart Records
Genre: 60s / 70s Rock / Pop / Progressive / Kraut
Availability
LP x2 €27.99

Out of Stock
Tasavallan Presidentti, along with Wigwam, were Finland's top export act in the days of the first wave of progressive rock in the
early seventies.s.Tasavallan Presidentti's eponymous debut album, released on Love Records in 1969, marked the start of the band's
hectic early productive period with the original singer, the English-born ex-patriot Frank Robson.

The Svart reissue expands the original jacket to gatefold, with full lyrics printed inside, and also adds a 8 page booklet with new
interviews with the band plus rare photographs. The bonus 12″ disc features all four tracks from the two contemporary non-album singles Time Alone With You and Solitary.