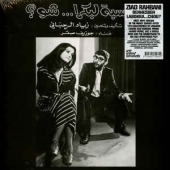 Rahbani Ziad
Bennesbeh Labokra... Chou?
Label: Wewantsounds
Genre: Freestyle / Nu Jazz / Funk / Afro
Wewantsounds is delighted to announce the reissue of Ziad Rahbani's cult album, "Bennesbeh Labokra...Chou?" released in Lebanon only and mixing arabic music with Jazz, Bossa Nova and other western influences. Hailed as an absolute classic, the album is the soundtrack to his eponymous play and has been highly sought-after by DJs and collectors around the world. Curated by Lebanese-born music expert Mario Choueiry from Institut du Monde Arabe in Paris, the album is reissued on vinyl for the first time since 1978, featuring original gatefold sleeve, remastered audio and a 2 page insert with a new introduction by Choueiry.