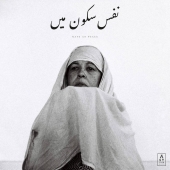 Jaubi
Nafs At Peace
Label: Astigmatic
Genre: Freestyle / Nu Jazz / Funk / Afro
JAUBI continue the Nafs journey, which commenced with the single "Satanic Nafs" (featuring the remix by legendary LA producers The Gaslamp Killer & Mophono). Now JAUBI draw on the elements of North Indian classical music, Hip-Hop and modal/spiritual jazz in their debut LP entitled "Nafs At Peace".

The journey officially began back in April 2019 when London's multi- instrumentalist and 22a Record label boss Ed "Tenderlonious" Cawthorne and Polish pianist/composer Marek "Latarnik" Pędziwiatr of EABS/Błoto, visited the group to record in Lahore.

Together they channelled their personal struggles at that time into the two recording sessions allowing the musicians to find a spiritual path through this musical purge.

Nothing whatsoever was written down during the recording sessions - no sheet music and no song titles, which allowed the six musicians to forget about their worldly issues.

In many ways, the journey represents a struggle and an expression of gratitude and an acknowledgement that the musician's inspiration comes from a higher power. The album cover portrays the mother of JAUBI's bandleader, tearfully praying to God to get her son through that dark period of his life.

The first step of the journey can be heard on "Satanic Nafs" which refers to the lowest level of the Self which was released 26th March 2021 through Astigmatic Records.

The album title 'Nafs At Peace' refers to the last purification step the self has been through. At this level, the Self no longer struggles because one has complete love of God, by becoming at peace and tranquil with God's will. We hope all can achieve the stage of "Nafs At Peace" … Inshallah.