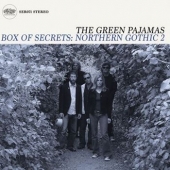 Green Pajamas
Box Of Secrets: Northern Gothic 2
Label: Sound Effect
Genre: Rock / Pop
Availability
Other Formats
Sound Effect issues The Green Pajamas' BOX OF SECRETS: NORTHERN GOTHIC 2

'Wake up late to an early freeze Black eyes and skeleton trees The cold Pacific shivers at me, "Why don't you go back home…"' So states Jeff Kelly in the first verse of the first song on the album, BOX OF SECRETS: NORTHERN GOTHIC 2, and we find ourselves somewhere out on the coast of Washington state in the Pacific Northwest: 'Walk the beach in a lonely mist / Can't see the water but I hear the hiss / Makes me think of the first time we kissed / In the ocean foam'. All of Kelly's usual songwriting elements are here: melancholia, lost love, a vivid landscape, longing. These familiar Kelly-isms can be heard throughout BOX OF SECRETS yet there was a new urgency in this music originally released in 2007, as if Kelly wanted to reaffirm that this was first, after all, a rock and roll band, and a very American one at that. There is a lack of the English-inspired whimsy found on some of the earlier Green Pajamas albums. Songs like "Wild Pony" and "Cold Love" find oversaturated electric guitars and peaked out drums providing the soundtrack to tales of the kind of small town down-and-outers that haunt American Film Noir; of witches, murderers and lost souls - like the woman who inexplicably takes a wrong turn off of Highway 4 and ends up at Hidden Lake… 'Thirteen miles down a crooked road There's a place where day don't break And the thick green water is deep and cold In Hidden Lake'

Critic, Stewart Mason, writing for the All Music Guide in 2007, said this about BOX OF SECRETS: 'Early press for the album claimed it was a putative concept album about the bandmembers' childhood memories, but as always, Kelly (and [Eric] Lichter and multi-instrumentalist Laura Weller, who provide three songs between them) is more interested in mood and compelling shards of imagery than telling coherent stories. This is no bad thing, because the Green Pajamas have proven themselves masters of mood-altering psychedelic folk-rock, and other than the Bevis Frond, there just aren't that many current bands out there who understand all three strands of that sound so well.'

So we have here the second installment of Sound Effect's series of reissues of The Green Pajamas' Northern Gothic trilogy and the obvious prequel to PHANTOM LAKE: NORTHERN GOTHIC 3. We believe there is a timeless quality to the music on these albums. The Green Pajamas are very happy to see these songs given a chance to be appreciated anew via our latest double-vinyl LP edition of BOX OF SECRETS, including five bonus tracks.

Electric blue vinyl.