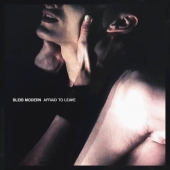 Bleib Modern
Afraid To Leave
Label: Icy Cold
Genre: Dark / Post Punk / Gothic / Neo-Folk
Germany's Bleib Modern is back with a lush new album! The Berlin/Munich post-punk band's trajectory, like countless others around the globe, had a topsy-turvy year due to the pandemic.
After their first label deal was cancelled and their tour abruptly ended after a few days, the group found themselves forced to change direction.
Previously, Bleib Modern sought out DIY production for their first two EPs and three albums (released on Wave Records & Manic Depression), but for this their new album they expanded their signature sound in Leipzig at Lala Studios. Bleib Modern sought the creative genius of Magnus Wichmann to help with recording, mixing, and mastering the album. The result is a highly emotional, melancholy, and wistful collection of songs mired in the quicksand of 2020's deep ennui. Perhaps the band's chaotic experience this year has some merit, after all, the album's haunting tunes indeed capture the mood of the collective.

TRANSPARENT Vinyl with black & white Splatters.