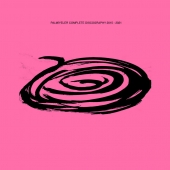 Palmiyeler
Complete Discography 2015-2021
Label: Green Cookie
Genre: Rock / Pop
Availability
CD x2 Digi / Cardboard €14.99

In Stock
Palmiyeler (Izmir born, Istanbul grown surf-pop-indie-dance-rock quartet) invites you for a drink by wavy beaches where you can enjoy their fun-psychsurf-pop sounds with serious lyrics darken by Istanbul's genuine chaos.

Founded as an Istanbul based garage rock trio comprised of lead vocalist/ guitarist Mertcan Mertbilek, bassist Tarık Töre, and drummer Rana Uludağ.
They recorded their debut 'Palmiyeler EP' in 2013 and released it on vinyl and all digital platforms in 2015.
After the release guitarist/keyboardist Barış Konyalı has joined the band. They spent time touring, making videos, and recording their debut album 'II (Venus)' with the singles 'Senden Haber Yok' and 'Karbeyaz'. 'II (Venus)' was released by Tantana Records in 2017 as a limited-edition LP and through all digital formats.
Palmiyeler released their 2nd studio album 'Akdeniz' including lead singles 'Derine' and 'Kalbim Seni Arar' on May 25, 2018 as a digital file. Green Cookie Record released 'Akdeniz' as a limited-edition vinyl on May 25, 2020.
'Ben-Hür' is their 3rd studio album so far. A singles compilation which contains songs from 2019 and 2020, as well as two new songs.

Limited edition of 250 copies.