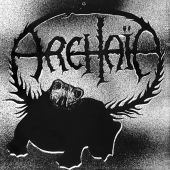 Archaia
Archaia
Label: Mutant Embryo Records
Genre: 60s / 70s Rock / Pop / Progressive / Kraut
Recorded and mixed at Studio Archaïa, Aug. 1977.
Remastered directly from the original Maxell reel-to-reel master tape by Michel Munier & François Suffert in Paris. Specially engineered by Spiros Rouchotas for a precise lacquer cut, this release provides the authentic channels mix as in the original 1977 LP, playing LOUD with superb analog sound & dynamics.

Limited edition of 250 numbered copies:
Black vinyl, black polylined innersleeve, 27x30 cm photo collage card, 2-page liner notes insert in french & english, 350gsm matte cover, hand numbered, stickered & sealed. Original artwork.