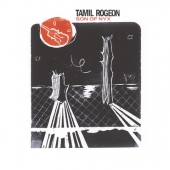 Rogeon Tamil
Son Of Nyx
Label: Soul Bank Music
Genre: Jazz / Avant Garde


Melbourne-based violist / violinist and orchestral composer, Tamil Rogeon, returns to his jazz roots on his soaring and celestial new album, Son Of Nyx coming soon on Greg Boramans' new imprint Soul Bank Music (part of the !K7 Music Group).

From conducting the Melbourne Symphony Orchestra at the 2500-seated Hamer Hall to writing and co-producing his first full-length album in three years and one of the very few viola-led jazz LPs of our time, Rogeon joins forces with several stars of Melbourne's thriving and acclaimed jazz scene (Allysha Joy, Sam Anning et al.), channeling the cosmic energy of Yussef Lateef, Herbie Hancock and the like.

Whilst often not an instrument typically associated with jazz, violin greats from Jean-Luc Ponty, Stéphane Grappelli to Billy Bang, have gone on to become iconic figures in the jazz canon, yet little can be said for the viola. Often considered the older sibling to the violin, the viola is larger in size and the tone is a lot deeper, something Rogeon was keen to make use of on Son Of Nyx.