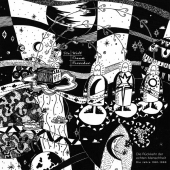 Die Welttraumforscher
Die Ruckkehr Der Echten Menschheit (1981 - 1990)
Label: Bureau B
Genre: 80s Wave / Rock / Pop / Punk
Flusch. Knirk. Finom! Since July 14th 1981, Die Welttraumforscher have been researching the dream of the world, becoming cassette creators in the process. A mission which has seen them seek out the folklore of outer space, visiting the continent of Binika and marvelling at the metropolis of Darktown. In transit, they find support and succour in Bretzelberg pop, toytown tempests, a starman, bricoleurs, 4-track recorders and instant architecture. How elated they are when they happen upon a successful sound piece, taking clandestine delight in THE RETURN OF GENUINE HUMANITY.

This first Bureau B retrospective devoted to Die Welttraumforscher covers the Swiss project's early creative period from 1981 to 1990. The eccentric, heartwarming pop songs now sound like documents from a parallel world, interwoven with idiosyncratic fantasy, surreal stories and dreamlike apparitions.

Considering their continuous and prolific output over the past four decades, it is quite remarkable how Die Welttraumforscher have remained under the radar for so long – that said, their cadre of admirers includes such illustrious artists as Mouse On Mars, Barbara Morgenstern and Felix Kubin.

It thus gives us immeasurable pleasure to offer you a closer insight into the work of this incomparable project.

All tracks have been remastered and the artwork has been lovingly crafted with the original Forscher drawings.