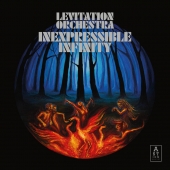 Levitation Orchestra
Inexpressible Infinity
Label: Astigmatic
Genre: Jazz / Avant Garde
There is no denying that UK jazz has been on everyone's lips for several years now. Away from the hustle and bustle of music media focusing on London jazz stars, Levitation Orchestra was founded by trumpeter Axel Kaner-Lidstrom (Cykada). Best kept secret of the jazz scene bustling upon Thames. Only a handful of heads have had a chance to get acquainted with this unique project and their performances.

The values and rules behind Levitation Orchestra are beautiful, simple and pure. None of the members is individually responsible for the orchestra's compositions. The whole 13-member band composes music collectively in the spirit of communal ownership, which allows for the emergence of unique energy among the musicians. For them, creating pieces like this is somewhat of a ritual.

Levitation Orchestra writes, practices, records, and then sets off on another journey. After the composition is created, the members of the orchestra practice the material through 4 rehearsals, then play 4 unique concerts, then head to the studio to record the material. "Inexpressible Infinity" is the second of such cycles recorded.

The group is formed by young London musicians who are either already well-established on the scene or just one step from getting there. Axel Kaner-Lidstrom, the founder of the orchestra and trumpeter of Cykada and Where Pathways Meet, has gathered a group of gifted and unconventional musicians: Saskia Horton, violinist, Deji Ijishakin, saxophonist from Nihilism, Polish harpist Maria Zofia Osuchowska from Sawa Manga, two female vocals – Sophie Plummer and Zakia Sewell of NTS Radio, on the keyboards there's a recent Boston Berklee alumnus Roella Oloro, we've also got Lluis Domenech Plane on flute, saxophonist James Akers, cellist Tom Oldfield, guitarist Paris Charles Raine, double bass player Hamish Nockles-Moore, and Harry Ling on drums.

Undoubtedly, one may describe the music they create as spiritual jazz. Nevertheless, the sound of the band eludes restrictive generic conventions due to its progressive deviation. Somewhere between the musicians from Strata-East catalogue, Sun Ra, Alice Coltrane and large bands of Michał Urbaniak from the 70s you can hear fusion and folk inspirations. All this makes Levitation Orchestra one of the most original jazz orchestras on the map of London.