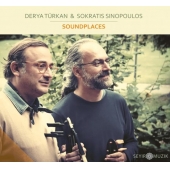 Turkan Derya & Sinopoulos Sokratis
Soundplaces
Label: Seyir Musik
Genre: World Music
Availability
CD Digi / Cardboard €16.99

In Stock
Creating this album has been the dream of a lifetime. After many years of friendship and collaboration, we have finally been able to record our duet.

As a piece of work, soundplaces is a confessional and creative dialogue in which we virtually explore the sounds of the musical traditions we love and the sounds of the places that we visit.

In this album, we create an interactive narrative of our geographical, historical and personal inner journeys.

Starting from Istanbul, mother of our instrument and breeding
ground to the supreme art music of makam, we travel to the Island
of Mytilini and Izmir, city of Rebetiko. From there we go to the Cyclades
Islands and Konya – the home of the Mevlevi Dervishes – and
then back to the Sea of Marmara in Erdek.

We eventually return to Istanbul, this time for its taverna dances,
before heading to the place where this album was recorded: the Church of Saint-Remi in Fernelmont, Belgium.