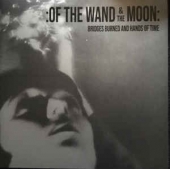 Of The Wand And The Moon
Bridges Burned And Hands Of Time
Label: Heidrunar Myrkrunar
Genre: Dark / Post Punk / Gothic / Neo-Folk
Availability
LP x2 +MP3 COUPON €43.99

In Stock
Rare tracks collected in a fine silver printed 12" gatefold cover and coming with printed innersleeves and Inlay + Download code for all tracks.

20 years of twilight tears! This is a collection of limited and now deleted 7inch releases, tributes to abscent comrades, collaborations and alternative versions from 2 decades.

Descend into the abyss of lost love and let go...

Limited silver vinyl edition.