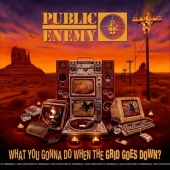 Public Enemy
What You Gonna Do When The Grid Goes Down - Special Edition
Label: Def Jam
Genre: Hip-Hop
Public Enemy rewrote the rules of hip-hop, becoming the most influential and controversial rap group of the late '80s and, for many, the definitive rap group of all time. Building from Run-D.M.C.'s street-oriented beats and Boogie Down Productions' proto-gangsta rhyming, Public Enemy pioneered a variation of hardcore rap that was musically and politically revolutionary. With his powerful, authoritative baritone, lead rapper Chuck D rhymed about all kinds of social problems, particularly those plaguing the black community, often condoning revolutionary tactics and social activism. In the process, he directed hip-hop toward an explicitly self-aware, pro-black consciousness that became the culture's signature throughout the next decade. While Public Enemy's early Def Jam albums, produced with the Bomb Squad, earned them a place in the Rock and Roll Hall of Fame, they continued to release relevant material up to and beyond their 2013 induction. Now, Public Enemy is back, and is ready to tell the world to once again FIGHT THE POWER!

Returning to Def Jam after more than two decades, Public Enemy is back and louder than ever! What You Gonna Do When The Grid Goes Down is the revitalized social justice anthem of 2020 and the body of work is a call to action, inciting justice for the black community. The album features artists such as DJ Premier, Mike D, Ice-T, PMD, Run DMC, and Jahi.

Includes art poster and PE stickers.