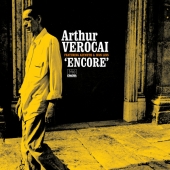 Verocai Arthur
Encore
Label: Far Out
Genre: Freestyle / Nu Jazz / Funk / Afro
Availability
LP €25.99

Dispatched within 5-10 working days
Remastered from the original tapes, Encore features 11 original compositions from Arthur with guest musicians including Azymuth, Ivan Lins and a nine-piece string section. The highly anticipated follow up to Arthur's eponymous debut album from 1972, Encore saw Arthur joining the dots over 35 years to create a modern classic of Brazilian music that, like his debut, combined Brazilian influences with his take on American soul and cinematic experimentation, and shows Arthur's sound is as poignant now as it ever was.
In the mid-2000's, following on from Marcos Valle, Joyce and of course Azymuth, Arthur Verocai joined the long-line of Brazilian musicians whose music was to be introduced to a whole new legion of fans by Far Out. The story of 'Encore' of course begins with Joe Davis, Far Out's head honcho who stumbled upon Arthur's debut in a dusty record store in downtown Rio in the late 80s. At the time of its release in 1972 critics panned Arthur's debut and both the album and artist subsequently vanished into obscurity. Fast forward to winter 2004 and Joe's at the studio of Far Out Recording artists Harmonic 313 – aka production duo Mark 'Troubleman' Pritchard and Dave Brinkworth – playing them some of his favourite Brazilian albums. Dave recalls the moment Joe put on Arthur's debut, "As soon as the needle hit the record and we heard the fantastic arrangements, songs and sounds, Arthur completely blew our minds".

Three months later and Dave was in Brazil with Arthur Verocai, and the plans for what was to become 'Encore' were being laid down. Produced by Dave, 'Encore' sees Arthur on incredible form, the 35 plus years between the recording of his debut and this the follow-up just melting away as Arthur picked up the (conductor's) baton once again to create 11 epic tracks of stirring samba-soul and experimental cinematic movements that sees him creating a record to rival his debut.

Born in Rio de Janeiro on 17 June 1945, Arthur Verocai began his professional music career in 1969 and over the next few years he was responsible for the orchestration of albums by Ivan Lins, Jorge Benjor, Elizeth Cardoso, Gal Costa, Quarteto em Cy, MPB 4 and Marcos Valle, among others. In the 1970s he was hired by Brazil's biggest TV station, TV Globo, as musical director and wrote the arrangements for many of the stations biggest shows. In 1972, following the success Arthur had with the production of Ivan Lins 1971 album "Agora", Arthur recorded his self-titled debut album on Continental Records. 'Arthur Verocai' challenged the musical conventions of the day, combining Brazilian influences with folksy soul and lo-fi electronic experimentations of American artists like Shuggie Otis or the orchestration of producer Charles Stepney.