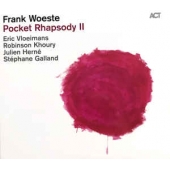 Woeste Frank
Pocket Rhapsody Ii
Label: Act
Genre: Jazz / Avant Garde
Availability
CD Digi / Cardboard €18.49

In Stock
When Frank Woeste's "Pocket Rhapsody" album was released in early 2016, the pianist earned a well-deserved place in the limelight. Here was a pianist who "doesn't sound like anyone else out there at the moment" (London Jazz News) with a "style at once powerful, elegant, rousing and outlandish" (ARTE Metropolis). The album also brought a strong re-connection with the German jazz audience, because although Woeste has made his home since 1999 in Paris, and has a substantial profile on the French scene – both through his own projects and as a result of his work alongside stars such as Youn Sun Nah and Ibrahim Maalouf – he was actually born in Hanover.

Woeste is living proof of the power of what can happen when cultures combine. In him we find a technical grounding from German classical music co-existing with a passion for American jazz and with the spirit of his adoptive country: "I am strongly influenced by the particular way jazz has always been viewed in France, as music that can blend well with other forms – world music, French music... There is a freedom here to take the jazz language, to adapt it and find one's own way," he reflects.

"Pocket Rhapsody". The album title of Woeste's first ACT album as leader encapsulated an approach to music that is rhapsodic, free and personal, and which he takes considerably further in "Pocket Rhapsody II". There is a whole cornucopia of timbres, a big emotional range, the compositions encompass many different aesthetics including pop and rock, but always with a clear sense of where we are. The album gives us much more of the beguiling sounds Woeste conjures from his 1970s Fender Rhodes and from various synthesizers, and there is a surprise: the joyous intervention of a children's choir. "My son Oscar sings in the 'Maîtrise des Hauts-de-Seine' choir. I would always take him along to his rehearsals and use the time to work on the material for 'Pocket Rhapsody II' on my laptop. And as I listened to my music with the choir singing in the background, I had a thought: the children's voices could bring humanity and classical poise, they would be the perfect counterweight to rocky and electric sounds of the band."