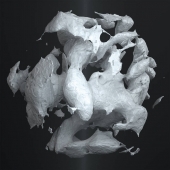 Penelope's Fiance
The Cutting Edge Of A Knife
Label: Hypermedium
Genre: Techno / Tech-House / House / Trance
Having previously released a slew of tapes on labels such as Clan Destine Records and Live Adult Entertainment, Penelope's Fiancé lands on Hypermedium for his vinyl debut. Hailing from Stavroupoli, Thessaloniki, Penelope's Fiancé has been keeping over the past few years a fast pace of work, constantly producing tracks and releasing new music, having shaped a unique sound that drifts across the borders of lo-fi, post-industrial and fuzzy techno. The Cutting Edge Of A Knife is the culmination of all these previous excursions, a solid display of his ability to craft emotionally intense tracks, merging a ghostly, gloomy grandeur with squelching percussion.

Opener 'Lethe' emerges from the haze with its cryptic atmosphere, moulded in lethargic drones, scattered vocalisms and sparse but piercing beats and rhythmic build-ups. A panic-fuelled, 160bpm ravey epic, 'Futile Endevours' brandishes an ecstatic, pumelling rhythm over recurring trance-flavored melodic phrases and unnerving vocal samples. 'I Wasn't Always There' is a seductive, dark elegy whose melancholic and lush synth melodies wash over chopping kicks and ice-cold hi-hats. 'Anxiety' sounds like a slow techno roller, where frozen metallic percussion meets a cavernous bass, right before the off-kilter, cacophonous buzz of 'The Lie Closest To The Truth'. Closing track 'The Cutting Edge Of A Knife' is an intoxicated oriental-stepper, soaked in vaporous middle-eastern percussion and muezzin-like chants.


Mastered by Thomas P. Heckmann and cut by Andreas Kauffelt at Schnittstelle.

Artwork by Inhalt.