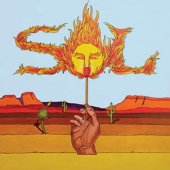 Gallardo Joe & Sol
Sol
Label: Mad About Records
Genre: Freestyle / Nu Jazz / Funk / Afro
Latin Funk Psych Fuzz Blaster basically covers all the realms of rare record collecting in one shot!!

There's the Funk Fuzz Blaster "Maranatha" or the Ray Barretto Latin Jazz Groove cut "El Que Se Fue" with freaky synth blasts.

The Texas Easy Funk moves of "Squeeze" which remind of Steam Heat, or the lounged out soul rendition of Stevie Wonder's classic "Bird Of Beauty". Something for everyone and impossibly rare!!

Deluxe reissue in super nice thick carton cover + OBI.
New press.