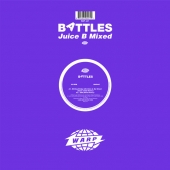 Battles
Juice B Mixed
Label: Warp
Genre: Post Rock / Avant Rock
Battles, New York City's preeminent experimental rock duo, have announced a forthcoming 12" of remixes from DJ Dairy & DJ Orient (black midi), Delroy Edwards, Shed, and DJ Nigga Fox, titled Juice B Mixed and due out on November 20th, 2020 via Warp Records.

This announce is accompanied by the remix from members of black midi, and follows the Delroy Edwards remix, released a few weeks ago. Both songs are available to stream now.

The release sees the aforementioned artists using an array of sounds from across the spectrum of Battles' latest LP Juice B Crypts, released late last year. With access to the raw sounds from the entire album, the remixers have created work that is not singularly indebted to one song or another, rather inspired by the sonic world of the album and serving as an extension of it. The remixers have utilized this creative freedom to the fullest, delivering a collection of songs that occupy distinctly different spaces of the electronic music landscape while retaining a shared connectivity to the original work. 4 uniquely individual remixes, remixing one of the uniquely individual bands of the new millennium, tied together by experimental spirit and a shared musical perspective.

DJ Dairy & DJ Orient, aka Cameron and Morgan from black midi, the young avant-rock quartet from London, deliver a pulsing, exuberant song in "Stirling Bridge," a slow-simmered, 5+ minute mini epic that throbs its way through somber tension and sparkling beauty into a climatic, joyous finish.

Berlin-based, techno heavyweight Shed makes use of John Stanier's drums to the absolute fullest, building them out into a pounding broken beat techno track then reworking the masterfully sampled guitars and keys of Ian Williams back into fray, creating harmonious balance and head-bobbing bliss, sonically satisfying on many levels.

Delroy Edwards, the enigmatic and prolific producer & DJ from Los Angeles, brings his signature, no-frills approach here, invoking equal parts Devo and industrial techno over a lurching, pounding, relentless beat.

Lastly, DJ Nigga Fox, the Lisbon-based producer and DJ, pushes things into the cosmic realm with his electro-infused take, a swinging, spaced out dancefloor cut and righteous DJ tool in the hands of the right selector.