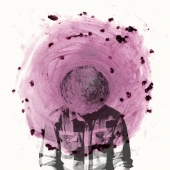 Broderick Peter
Blackberry
Label: Erased Tapes
Genre: Electronica / Ambient / Experimental
Availability
LP €22.99

Dispatched within 5-10 working days
Blackberry is Peter's first vocal album in five years, since 2015's Colours of the Night. The entire album was recorded in Peter's bedroom in London during the summer of 2019, hence Peter's description of it as "Experimental-Bedroom-Folk-Pop". All instrumentation is by Peter with additional vocals on the last track by his wife, singer Brigid Mae Power, and his stepson, Seán Power.

The subject matter of Blackberry is wide-ranging. He touches on family and on the connection we all need as social animals. He writes about technology and whether it will save or doom us. And of course, he writes about nature, about foraging, about the importance of engaging with the outside world in cities and in the country. Peter and his family recently returned to Co. Galway as they have a great love for the Irish countryside, having lived there before their move to London in 2019.

Peter explains the idea behind the album and its name, saying: "It is with all seriousness and great reverence that this album is named Blackberry. In a time when us humans are coming face to face with the impact of our actions on the environment at large, I strongly advocate for engaging with our local landscapes. When I first became obsessed with foraging edible wild plants a few years back, I wasn't particularly excited about the humble blackberry, but I would soon return with great passion to this familiar fruit of my youth. Even in our most urban environments, the gnarled and resilient blackberry vines continue to weave themselves throughout, as if to keep reminding us where we come from."

Peter Broderick is perhaps most well known as a live member of Efterklang, the Danish indie-rock group with whom he played from 2007-2013. In recent years he's been kept busy working on the archives of Arthur Russell, being hired to perform audio restoration, editing and mixing for the latest posthumous release by the cult icon. Peter has also released over twenty solo recordings in the last thirteen years, as well as composed music for film and dance, most recently the multi-award winning animated film Two Balloons. Not wanting his creativity to be reined in by any one genre, Peter has explored gospel and soul, spoken word and beat boxing, through to folk and rock and classical. He thrives on constant experimentation and collaboration with like-minded creators. Early 2020 saw him performing in the band of Tim Burgess (Charlatans), whose latest chart topping solo album features Broderick on violin.

The first vocal line on Blackberry is "You can only be as happy as the world that you live in..." — a sentiment that all of us can relate to as we struggle with climate change, with a global pandemic and resulting lockdown, with an uncertainty about the future that the modern world generates in us all. But as musicians like Peter soundtrack these turbulent times, they provide us with a lifeline, a way of looking at the world that is hopeful and full of wonder.