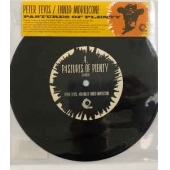 Tevis Peter / Morricone Ennio
Pastures Of Plenty
Label: Trunk
Genre: 60s / 70s Rock / Pop / Progressive / Kraut
Availability
7" €14.49

Dispatched within 5-10 working days
First pressing since 1962 of legendary, even mythical morricone / peter tevis single. It is the music that was to become a fistful of dollars a few years later

HISTORY:
Originally written and released by Woody Guthrie in 1947, this cover version of Pastures Of Plenty by Pete Tevis – a Californian folk singer living in Rome in 1962 – was arranged by Ennio Morricone. A few years later, Sergio Leone wanted Morricone to score his up and coming western called A Fistful Of Dollars. Legend has it Morricone wrote some music, Leone hated it. Morricone then played him this old single. Leone wanted this music but with a new melody over the top. The rest is film music history.

This is the first ever repress of this hugely important single since 1962. Originals copies are mythical to say the least.