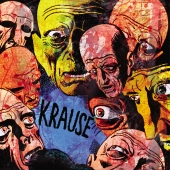 Krause
Vague Outlines Of Almost Recognisable Shape - Rsd Release
Label: Inner Ear
Genre: Rock / Pop
Οι KRAUSE δημιουργήθηκαν το 2016 με σκοπό να παίζουν άγριο και βρώμικο 90s noise rock στον δρόμο που χάραξαν μπάντες όπως Unsane, Helmet, Today is the Day, Cherubs κλπ. Συγκέντρωσαν την συλλογική τους περιφρόνηση γι' αυτόν τον κόσμο και την έστειλαν πίσω με το ντεμπούτο LP τους 2AM THOUGHTS, που κυκλοφόρησε το 2017 (Riot Season/3 Shades of Black).

Το καλοκαίρι του 2019, επέστρεψαν με το τεράστιο THE ECSTASY OF INFINITE STERILITY (Riot Season/Fuzz Ink Records), το οποίο απέσπασε εξίσου διθυραμβικές κριτικές τόσο στην Ελλάδα όσο και στο εξωτερικό.

Το νέο τους επτάιντσο VAGUE OUTLINES OF ALMOST RECOGNISABLE SHAPES/THE FRATERNITY OF LOST MEN-CHILDREN έρχεται να παρουσιάσει δύο κομμάτια ακραίας ηχητικής βίας, βαριά αλλά πιασάρικα, που δίνουν μια ιδέα του τι έχουν στο νου τους οι KRAUSE για το μέλλον.