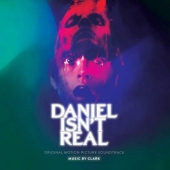 Clark
Daniel Isn't Real
Label: Deutsche Grammophon
Genre: Electronica / Ambient / Experimental
Based on co-writer Brian DeLeeuw's novel "In This Way I Was Saved".

Troubled college freshman Luke (Robbins) suffers a violent family trauma and resurrects his childhood imaginary friend Daniel (Schwarzenegger) to help him cope. Charismatic and full of manic energy, Daniel helps Luke to achieve his dreams, before pushing him to the very edge of sanity and into a desperate struggle for control of his mind -- and his soul.

Chris Clark has worked with music and sound for eighteen years. Signed at an early age to legendary British indie label Warp Records, he has to date released ten albums as well as a multitude of EPs and singles. His last studio album, 'Death Peak' was accompanied by an incandescent live show with dancers choreographed by frequent collaborator Melanie Lane. Toured extensively in 2017-18 it headlined stages world wide.

Following his debut score for TV series 'The Last Panthers' he recently scored 'Rellik' for BBC1 and breakout Channel 4 drama 'Kiri' starring Sarah Lancashire and written by Jack Thorne.

Chris has collaborated with choreographer Melanie Lane, scoring no less than ten contemporary dance projects including the performance of her solo project 'Tilted Fawn' at the Sydney Opera House and most recently 'Personal Effigies' which won the Kier Choreographic Prize in March 2018.

Chris' extensive inventory of re-mixes for the likes of Massive Attack, Depeche Mode, Max Richter, Battles and Nils Frahm were collected in 2013 on the 'Feast / Beast' double album.