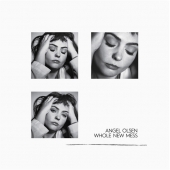 Olsen Angel
Whole New Mess
Label: Jagjaguwar
Genre: Rock / Pop
Availability
CD Digi / Cardboard €14.99

Dispatched within 5-10 working days
Other Formats
The time had come, Angel Olsen realized in the fading summer of 2018, to take her new songs out of the house. Olsen's 2016 marvel, My Woman, had been a career breakthrough, but it catalyzed a period of personal tumult, too: a painful breakup, an uneasy recovery, an inadequate reckoning. At home in North Carolina's Blue Ridge Mountains, Olsen penned songs that finally grappled with these troubles, particularly love—how forever is too much to promise, how relationships can lock us into static versions of ourselves, how you can go through hell just to make someone else happy. These heartsore explorations shape Whole New Mess, Olsen's first solo album since her 2012 debut and an emotional portrait so intimate and vulnerable you can hear her find meaning in these crises in real-time.

At least nine of the eleven songs on Whole New Mess should sound familiar to anyone who has heard All Mirrors, Olsen's grand 2019 masterpiece that earned high honors on prestigious year-end lists and glossy spreads in stylish magazines. "Lark," "Summer," "Chance"—they are all here, at least in some skeletal form and with slightly different titles. But these are not the demos for All Mirrors. Instead, Whole New Mess is its own record with its own immovable mood, with Olsen working through her open wounds and raw nerves with just a few guitars and some microphones, isolated in a century-old church in the Pacific Northwest. If the lavish orchestral arrangements and cinematic scope of All Mirrors are the sound of Olsen preparing her scars for the wider world to see, Whole New Mess is the sound of her first figuring out their shape, making sense for herself of these injuries.

"I had gone through this breakup, but it was so much bigger than that—I'd lost friendships, too. When you get out of a relationship, you have to examine who you are or were in all the relationships," Olsen remembers of the moment. "I wanted to record when I was still processing these feelings. These are the personal takes, encapsulated in a moment."

Years earlier, while making My Woman at the legendary Electro-Vox in Los Angeles, Olsen struck up a sudden and deep friendship that transcended work with Michael Harris, the studio's head engineer. She recognized a kindred spirit—someone more interested in the wider world and intense connections than his unexpected position of power in the music industry. Since those sessions, Harris and Olsen kept in close touch, visiting one another at home and catching up during long calls. "We see each other very clearly, without words," says Harris. "And the guiding light of our working relationship has always been emotionality—what's there, or what's not there."

With that rapport in mind, Olsen asked Harris to help find a studio where she could sit still with these thoughts, a space where, as she puts it, "vulnerability exists." They asked around and settled on The Unknown, the Catholic church that Mount Eerie's Phil Elverum and producer Nicholas Wilbur converted into a recording studio a decade ago in the small town of Anacortes, Washington. Situated on a small finger of land that juts toward the Pacific Ocean, Anacortes would act as kind of harbor for Olsen, limiting distractions as she tried to burrow inside of these songs for 10 days in late October 2018.

"I hadn't been to The Unknown, but I knew about its energy. I wanted to go sit with the material and be with it in a way that felt like a residency," Olsen says. "I didn't need a lot, since it was just me and a guitar. But I wanted someone else there to hold me accountable for trying different things."

Olsen and Harris lived for 10 days in a rental and built a daily ritual of getting coffee each morning in a nearby book store. They hiked Mount Erie, visited state parks, and strolled the empty streets of Anacortes beneath a full moon. On Halloween night, they set up a projector in the studio to watch the small-town horror movie, The Conjuring. That night, in the legendarily haunted church, they heard strange, unidentified clatters.

But mostly, the sessions were casual, relaxed, and quiet, allowing Olsen the space to fully explore these feelings. The results are staggering, somehow disarmingly candid and dauntingly personal at once. Over a heavy acoustic strum, "(We Are All Mirrors)" rises from a plaintive mumble to an exorcism, Olsen wielding her vibrato like a weapon against "losing beauty." And during "Tonight (Without You)," one of the most candid and devastating breakup songs in memory, her voice is as fragile as crystal. She searches for the strength to commit to this overdue goodbye. As she hums her way toward the end, you hear the apprehension and root for her to overcome it.

The opener and title track—one of two songs here that did not appear on All Mirrors—is a blunt appraisal of how low Olsen got and how hard the process of pulling herself back upright was, especially when being an artist can mean turning your emotions into someone else's entertainment. "Oh, I'll really do the change," she repeats at the start and finish, her voice wavering as she tries to buy the mantra she's selling. When she hits the high, quavering notes of tender waltz "Waving, Smiling," you can hear her push against the lump in her throat, wrestling with the worry of her past and what it means for her future. But by the time Olsen reaches the end here, her voice practically playful over the big acoustic chords of "What It Is (What It Is)," she almost sounds comfortable with the hard truth of ill-fated relationships: They are transactional in nature, a system designed so two people can at least feign satisfaction.

When Olsen and Harris left Anacortes, they both flew home. Harris remembers getting to Los Angeles and collapsing on the floor, exhausted and elated to have done exactly what he wanted—help a friend find the space she needed to face off with daunting feelings. In North Carolina, not even a week later, Olsen began drafting arrangements for bigger versions of these songs. Now that she'd confronted those woes and identified the essence of these songs alone, she was ready to open them to other collaborators, to have them climb inside this landscape she'd now begun to understand. A month later, she was in Los Angeles to begin tracking All Mirrors.

"For music to continue to be interesting to me, I have to switch up the process sometimes, to go back to the beginning and see myself as a writer who can lose herself in a song because I don't have to keep track of a band," says Olsen. "Recording songs this way reminds me of why I make them in the first place."

Considered alongside All Mirrors, Whole New Mess is a poignant and pointed reminder that songs are more than mere collections of words, chords, and even melodies. They are webs of moods and moments and ideas, qualities that can change from one month to the next and can say just as much as the perfect progression or an exquisite chord. In that sense, these 11 songs—solitary, frank, and unflinching examinations of what it's like to love, lose, and survive—are entirely new. This is the sound of Angel Olsen, sorting through the kind of trouble we've all known, as if just for herself and whoever else needs it.