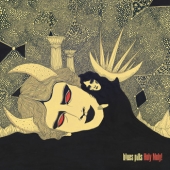 Blues Pills
Holy Moly!
Label: Nuclear Blast
Genre: Rock / Pop
Availability
CD Digi / Cardboard €19.99

Dispatched within 5-10 working days
The history of BLUES PILLS can seem simple. The rock quartet formed in the Midwest in late 2011 by the bands songwriters Zack Anderson and Elin Larsson went straight from playing at dirty, crowded bars to play at some of the biggest festivals such as Download, Rock am Ring and Wacken Open Air. A true success story. Or? Not really. Under the layers of heavy psychedelic blues rock and Elin Larsson's soulful and powerful voice, the core of BLUES PILLS has always been the restless search for change. Change in the human mind and the musical influences they embraced themselves with, from blackened soul to the trippy rides through 60s garage rock music and the devils blues. During their break BLUES PILLS has been through some kind of reincarnation. A reincarnation that lead to a new self produced and recorded album summer 2020 mixed by Grammy Award winning Andrew Scheps (Red Hot Chili Peppers, Iggy Pop, Adele, Black Sabbath, Rival Sons, Hozier et al).

If you were blazed by heaviness of their first self titled album, and tripped to the psychedelic soul of Lady In Gold (#1 Germany) you won't be immune to the effects of this third dose of the pills. Empowered by the definition of a cool bass player Kristoffer Schander, their banana loving drummer André Kvarnström, Elin Larssons haunting voice and Zack Anderson now on lead guitar the band has gone back to their roots. Back to the raw power of rock'n'roll and blues with a pinch of soul. During the bands short break they built their own studio, Lindbacka Sounds, in an old factory in the rural area of Närke, Sweden and filled it up with analog recording equipment, and their own personal demons haunting them in their sleep. Exhausted and empty after the long years of touring all over the world they went back to basics, and the last years of highs and lows lead to a more autobiographical album. Elin, Zack and André spent most of their waking hours writing songs, recording and changing. Over and over, until they were all completely satisfied. And now they're back and ready to give the world another helping of their heavy rockin' tunes.

Limited edition digibook. Includes bonus disc.