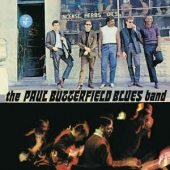 Butterfield Paul Blues Band
The Paul Butterfield Blues Band
Label: Music On Vinyl
Genre: 60s / 70s Rock / Pop / Progressive / Kraut
Availability
LP 180gr Audiophile €20.99

In Stock
The Paul Butterfield Blues Band is arguably the finest example of raw Blues essence. With white harmonica player Butterfield at the center, the racially integrated group started as one of the first authentic and genuine Blues combos. They were the real deal - and paved the way for the upcoming blues music movement in an in time when hit charts were still separated by color of skin.

Their first and eponymous album from 1965 contains a mix of electric Chicago style Blues and Rock & Roll: raw, brazen, and powerful, beautifully weaved together by Butterfield's harmonica and scorching vocals. And more to their credit: the Paul Butterfield Blues Band single-handedly helped introduce more white listeners to the band's influences, such as Muddy Waters and B.B. King.

Available as a limited edition of 1000 numbered copies on flaming orange coloured vinyl.