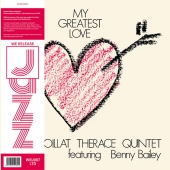 Boillat Therace Quintet
My Greatest Love
Label: We Release Jazz / We Release Whatever The Fuck We Want
Genre: Jazz / Avant Garde
We Release Jazz (Ryo Fukui's Scenery and Mellow Dream, Marc Moulin's Placebo Live 1971…) is madly happy to unleash another reissue from Geneva's very own Boillat Thérace Quintet. The My Greatest Love album features none other than bebop and hard-bop legend Benny Bailey and is available for the first time since 1975.

Galvanized by the creation of the Montreux Jazz Festival in the late 60s and lively local scenes, jazz music was healthy and booming in Switzerland in the 1970s. One band that beautifully captured this energy was Jean-François Boillat and Raymond Thérace's Boillat Thérace Quintet whose self-titled debut and impressive Montreux appearance set the tone for quality Helvetic jazz in 1974.

Following this first excellent impression, the Boillat-Thérace ensemble connected with American trumpeter Benny Bailey and recorded the magnificent My Greatest Love in May and June of 1975. The modal, hard bop and soul-jazz gem includes first-class takes on Freddie Hubbard's "Gibraltar", Kenny Dorham's "Blue Bossa", and Jimmy Heath's "Gemini", plus deliciously funky originals from the Geneva crew, including the upbeat "Le Colin" and the swaying fan-favorite "Prompt" and its thrilling solos. Bailey is on trumpet and flugelhorn, Boillat on Fender Rhodes and piano, Thérace on saxophone and flute, Roger Vaucher on Fender bass, Eric Wespi on drums, and Rogelio Garcia on percussion and tenor saxophone…heavy sessions and deep vibes!