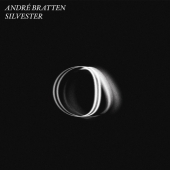 Bratten Andre
Silvester
Label: Smalltown Supersound
Genre: Electronica / Ambient / Experimental
Availability
LP x2 €21.99

Dispatched within 5-10 working days
A lot has been written about seminal Norwegian black metal band Mayhem but André Bratten's new record for Smalltown Supersound surfaces a little known story about the group.

In 1986-87, years before their 1993 debut record, guitarist Øystein Aarseth (aka Euronymous) took a musical pilgrimage to Germany to solicit collaboration with one of his musical heroes.

Øystein, who tragically was destined to be murder by former member Varg Vikernes in 1993, bought an Interrail ticket and travelled from Norway to Germany to seek out experimental musician Conrad Schnitzler. Conrad was the founder of West German Krautock incubating club the Zodiac Free Arts Lab in West Berlin in 1968 and a former member of Tangerine Dream and Kluster (key experimental groups in the development of industrial music and Kosmiche electronic music).

Øystein sat outside Schnitzler's house and refused to leave until he was allowed in to talk. His persistence paid off, with Schnitzler surprisingly agreeing to write a piece of music for Mayhem.

The piece of music became "Silvester Anfang", the first track and introduction to Mayhem's classic debut "Deathcrush". A detailed percussive number, Mayhem still open their heavy live shows with this music today.

When Mayhem founder Jørn "Necrobutcher" Stubberud told the story behind "Silvester Anfang" to Bratten at a party, they immediately had the idea that Bratten should remix or rework this little known track. Totally absorbed in the sounds of Schnitzler and its strange and unusual pairing with Mayhem, Bratten started out with a plan to make one remix. He ended up with a series of tracks inspired by both Schnitzler's intro and the sounds of teh debut record "Deathcrush". The results transpired into a mutation of Conrad Schnitzler, Mayhem and André Bratten.

"Silvester" is Mayhem and Schnitzler reimagined. Or deconstructed and then rebuilt. However you term it, a remix turned into a new André Bratten unlike any he has recorded before, haunted by the echoes of Mayhem's grisly legacy as well as Klusters early industrial music's concrte looped experiments. 5 new tracks and 50 minutes of new music. An album of abstract freeform structures morphing elements of kraut, techno, ambient, black metal, industrial, minimalist and drone. A perfect fusion of two dystopian extremes of Norwegian underground music.