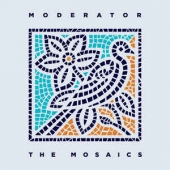 Moderator
The Mosaics
Label: Melting Records
Genre: Freestyle / Nu Jazz / Funk / Afro
The ballistic evolution of Moderator, the prolific Greek beat-wrangler, continues with his latest multi-faceted album, The Mosaics. His previous sets for Melting Records — The World Within and Sinner's Syndrome — handily confirmed Moderator's rising status on the global instrumental hip hop scene. Brimming over with experimentation and sonic sources ranging from psychedelic rock to Memphis soul to Italian horror film soundtracks, Moderator's productions are, most of all, ready to rock sound systems and be rocked by DJs.

The Mosaics —the first release of a new series of LPs introduced by Melting Records in collaboration with the YouTube channel Beats & Culture — is aptly titled as it displays different shades of Moderator's audio aesthetic. The beats are potent, more samples are grabbed from exotic places, and the groove meter is notched high into the red zone. Its dozen tracks are like one of those around-the-world airplane tickets, but this journey touches down for 12 gratifying stops. The Mosaics is deep and many-colored, offering a potpourri of beats, vibes, and flavors that will burst borders and stand the test of time.

Highlights include the opening "Ararat Valley" with its big old school drums and explosive jazz moves, "Africa's Calling" and its energetic punch and groove, and the nostalgic "Mr. Sotos," which combines vintage movie vibes with floor-moving beatology. And then there's the funky Yma Sumac-ish strut of "Kumamoto," the tiki bar rhythm eruption of "The Don," and the wild chants of "Spice Lahore." The Mosaics is all over the place but in the best way possible. And wherever he travels, Moderator remains an inventive citizen of the hip hop nation.

Repress of 350 copies. White cover / orange vinyl.