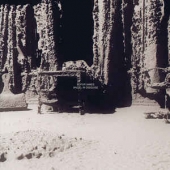 James Leifur
Angel In Disguise
Label: Night Time Stories
Genre: Electronica / Ambient / Experimental
London based experimental producer and composer, Leifur James returns with his highly anticipated second album Angel in Disguise, via Late Night Tales original artist label Night Time Stories.

Driving, melancholic electronica, 'Wise Old Man' is a nod to what can be expected of James' second album, Angel In Disguise, showcasing a more experimental side to his production. Traversing through musicality, progressive synths and introspection, this first single unveils the producer's distinct sound with disorientated vocals; speaking of the interplay between reason and emotion, the lyrics repeat "Wise old man in my brain, soul bursting through my veins", opening the gates to this captivating electronically steered opus.

This news comes after an incredible few years for the artist. 2018 saw James release his esteemed debut album A Louder Silence on Night Time Stories and follow up remix EP that championed upcoming electronic talent including Bruce, FaltyDL and Whities producer, Coby Sey, on rework duties - projects which captured the attention of key tastemakers including Resident Advisor, Pitchfork, Mixmag, Electronic Sound, Future Music UK.

An aesthetically driven artist dedicated to marrying powerful visual backdrops with sonic explorations, James teamed up with Hungarian director, Balázs Simon; producing the critically acclaimed, 'Wurlitzer' project which saw widespread support from the likes of Boiler Room, CLASH, Directors' Notes, Motionographer, the UK and Berlin Music Video Awards, the London Short Film Festival, Dublin International Film Festival and more.

A highly anticipated body of work, Angel In Disguise explores the themes of love and loss through a masterful blend of harmonic vocals from James himself, nuanced electronic soundscapes and vibrant percussion - punctuated by bespoke visuals, directed by Balázs Simon. This sees James step up, exhibiting his discerning ear and painstakingly honed production craft on a seminal label.