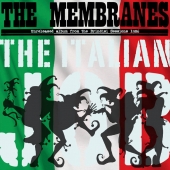 Membranes
The Italian Job
Label: Smash
Genre: 80s Wave / Rock / Pop / Punk
Availability
10" €20.99

Dispatched within 5-10 working days
Recorded in Brindisi, Italy in 1986
Mastered by Gavin Monaghan 2020
Artwork by Simon Williams

John Robb: Guitar/Vocals
Robert Healey: Bass
Andrew Coulthart (Coofy Sid): Drums
Backing vocals by whole band and Jacqueline Harte

We entered the studio to record some tracks, one of which was for a compilation album to be released in Italy. 'Savage Sea' was selected and was subsequently issued on the "Lucifer's Friends" compilation by Crazy Mannequin Records (CRAZY 0003) alongside tracks from The Jazz Butchers, Jacobites and many more.

The only recording of the full session turned up on a cassette found by John during the Covid 19 lockdown, of particular interest is the track 'Plastic Instead Of Trash' which he had entirely forgotten about - its never been recorded again for release, nor has it even played live since!

A genuine lost track which we are pleased to finally make available.

The cassette was sent to Gavin Monaghan, who has worked wonders - cleaned it up, without dulling the raw energy of the session, a perfect document of the band at the time.

Clear record lathe cut, 40 copies.