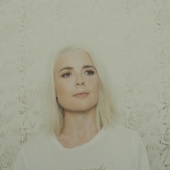 Slade Natalie
Control
Label: Eglo
Genre: Freestyle / Nu Jazz / Funk / Afro
Availability
LP €20.99

Dispatched within 5-10 working days
Control is the incredible debut album from Sydney based vocalist Natalie Slade, produced by Hiatus Kaiyote's Simon Mavin and featuring contributions from other members of the Grammy Nominated group.

Combining Soul, Jazz, Folk and RnB, Natalie's timeless vocals dazzle across 10 stunning tracks, perfectly complimented by rich, live instrumentation and Mavin's vibrant production. The album is classic to its core, whilst taking a fresh and energetic approach to a long tradition of Soul/RnB long players. Familiar broken rhythms and jazz heavy motifs, notorious with Hiatus Kaiyote's writing and arrangement style are present, reminding us throughout that we are in the hands of true masters. The result is a kaleidoscopic reimagining of sounds and styles from an exciting new vocal talent.

Recording began after a chance encounter between Natalie and the Hiatus keys player Simon Mavin, resulting in a writing session that quickly escalated into a full-blown album project. The chemistry was clear and the creativity flowed. Spontaneous recording sessions ensued, with visitors to the studio jumping in to play on tracks, the levels of musicianship on the album never fall short of stunning and Natalie's poetic and enchanting song writing shines throughout.

The album kicks off with an energetic flash on 'Cloud Cover', an arpeggiating bass line bubbles over skipping drums and aquatic synths. The title track 'Control' puts its foot on the gas with a driving synth bass, broken beats and soaring vocals. 'Colour' see's Natalie pouring out her heart to the universe over a fluttering mellotron whilst the beautiful 'There Is Light In Everything' gives her a chance to show off her vocal prowess. Control is a truly unique and dynamic debut album from two masters of their craft, we hope you enjoy it just as much as we do.