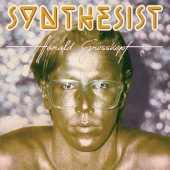 Grosskopf Harald
Synthesist - 40th Anniversary Edition
Label: Bureau B
Genre: 80s Wave / Rock / Pop / Punk
Availability
LP x2 €37.99

Dispatched within 5-10 working days
"Synthesist" is the first solo album by Ashra drummer Harald Grosskopf.
It is one of the classics of German electronic music, comprising eight instrumentals composed in the tradition of the so-called Berliner Schule / Berlin School (Klaus Schulze, Tangerine Dream).

For the 40th anniversary this classic of german electronic music is released as 2-vinyl with new interpretations by Steve Baltes, Thorsten Quaeschning, Paul Frick, Keidler, Pyrolator, Love-Songs, Stefan Lewin, Camera and Tellavision.

Originally released 1980 on Sky Records.

Yellow vinyl.