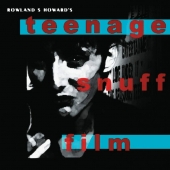 Howard Rowland S
Teenage Snuff Film
Label: Mute
Genre: Rock / Pop
Availability
CD Digi / Cardboard €17.99

Dispatched within 5-10 working days
Rowland S. Howard's importance to the world's musical landscape and Mute's history can not be understated.

Rowland joined The Boys Next Door in 1978, a band formed by Nick Cave and Mick Harvey and is often cited as the catalyst that turned that band's sound into the force of nature that would become their new band The Birthday Party.

After The Birthday Party split up in 1983, Nick Cave formed the Bad Seeds with Mick Harvey and Rowland formed the magnificent These Immortal Souls whilst also collaborating with Simon Bonney's Crime & The City Solution, Lydia Lunch, Nikki Sudden, Fad Gadget, Foetus, Jeffrey Lee Pierce, Epic Soundtracks and Mick Harvey.

Rowland sadly passed away in 2009 after recording his final solo album Pop Crimes, both this and Teenage Snuff Film have been unavailable physically outside of Australia for many years and both fetch high prices on Discogs and eBay.