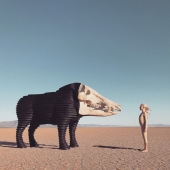 Man Man
Dream Hunting In The Valley Of The In-between
Label: Sub Pop
Genre: Rock / Pop
Availability
LP x2 +MP3 COUPON €24.99

Dispatched within 5-10 working days
Honus Honus (aka Ryan Kattner) has devoted his career to exploring the uncertainty between life's extremes, beauty, and ugliness, order and chaos. The songs on Dream Hunting in the Valley of the In-Between, Man Man's first album in over six years and their Sub Pop debut, are as intimate, soulful, and timeless as they are audaciously inventive and daring, resulting in his best Man Man album to date.

The 17-track effort, featuring "Cloud Nein," "Future Peg," "On the Mend" "Sheela," and "Animal Attraction," was produced by Cyrus Ghahremani, mixed by S. Husky Höskulds (Norah Jones, Tom Waits, Mike Patton, Solomon Burke, Bettye LaVette, Allen Toussaint), and mastered by Dave Cooley (Blood Orange, M83, DIIV, Paramore, Snail Mail, clipping). Dream Hunting...also includes guest vocals from Steady Holiday's Dre Babinski on "Future Peg" and "If Only," and Rebecca Black (singer of the viral pop hit, "Friday") on "On The Mend" and "Lonely Beuys." The album follows the release of "Beached" and "Witch," Man Man's contributions to Vol. 4 of the Sub Pop Singles Club in 2019.

At the end of 2015, Man Man went on an unexpected hiatus, and thus began a period of creative reinvention for Honus Honus. He worked in music supervision and on scores (The Exorcist, Superdeluxe, Do You Want to See a Dead Body?). He acted in the indie film Woe ("I played a park ranger, a nice guy in a sad movie."), So It Goes, a short musical film with Mary Elizabeth Winstead, and starred in the award-winning tour documentary Use Your Delusion. He also developed an animated series, wrote film scripts, a graphic novel, a neo-noir TV pilot, and briefly penned a music column for The Talkhouse all while continuing to work on new music, such as an unreleased kids' record, another Mister Heavenly album, a self-released Honus Honus record, and a conceptual art/noise project Mega Naturals.

In the midst of this surreal exile from Man Man, Honus began piecing together what would become Dream Hunting in the Valley of the In-Between. He recruited longtime-collaborator Cyrus Ghahremani to help him produce. Written in a friend's LA guesthouse that had "an old upright piano, a thrift store lamp, and nothing else," it was an arduous, three-and-a-half-year process, "I had chord progressions that looked like chicken scratch and lyrics on pieces of paper stuck all over the walls. It looked like I was about to break the big case, catch the killer," he says, laughing. "There was a lot of self-doubt, fighting the urge to throw in the towel. It wasn't fun but it definitely forced the best album of my career out of me. Sometimes you just gotta tear it all down to rebuild things the right way. Trust the process."

Coloured vinyl, loser edition.