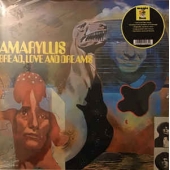 Bread, Love And Dreams
Amaryllis
Label: Magic Box
Genre: 60s / 70s Rock / Pop / Progressive / Kraut
• Lost acid folk classic
• Backing from members of Pentangle – Danny Thompson and Terry Cox
• Originally issued in 1971
• Long-awaited vinyl reissue
• Two bonus postcards

The last album by this Scottish act (consisting of David McNiven and Angela Rew) is one of the best and most collectable acid folk albums ever made. As well as the epic title track, it features four superb shorter songs, with expert backing from musicians including Danny Thompson and Terry Cox of Pentangle. It makes a welcome return to vinyl here, together with two postcards.