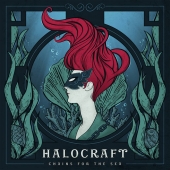 Halocraft
Chains For The Sea
Label: Space Between Us Recordings
Genre: Post Rock / Avant Rock
Availability
LP 180gr €24.99

Out of Stock
Halocraft are a post rock/art rock band from Giannitsa, Greece. They formed in 2014, drawing inspiration mainly from bands like God Is an Astronaut, This Will Destroy You and Maybeshewill. Their artistic identity is mainly characterized by their imposing —masked— looks and their distinct cinematic aesthetics, prominent in their music.

They firstly came to the fore through two EPs: The City in your Eyes (2016) and Chains for the Sea (2017). The band themselves have named those two records as «experimental», as through these they stood on their feet as musicians.

In 2018 they completed their debut album, also named Chains for the Sea. It's a concept album based on the first part of a story that Halocraft conceived for their musical universe. The protagonist is no one but a little girl, destined to discover a «gift» that fell from the sky centuries ago...

In it's nine tracks the album masterfully blends hard rock elements and ambient fills on a solid post rock, instrumental foundation. Under the Waves she Sleeps, the opening track, introduces the listener to the concept of the album. Vertigo, the Desire to Fall, Those who Sow Winds and It has Awaken stand out with their intense outbreak. In Orbit lures us with its ambient melody. The Daughter you 've Always Wanted, False Vacuum, She Speaks of Stars and Chains for the Sea are comparable to the best moments of Explosions in the Sky and God is an Astronaut.

After becoming a heartily recommended record within the prog/post rock community in Greece and abroad, Chains for the Sea is now re-released in a limited edition vinyl. Grab it and embark on a remarkable musical tale, visualized by the wonderful artwork of Tilemahos Milios.

Transparent sea blue vinyl.