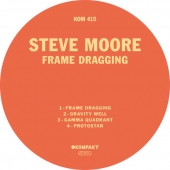 Moore Steve
Frame Dragging
Label: Kompakt
Genre: Electronica / Ambient / Experimental
Availability
MLP €15.49

Dispatched within 5-10 working days
It's with great pleasure that we announce the return of New York's synth wizard Steve Moore to KOMPAKT - pretty much exactly 10 years after his much lauded first appearance 'Bayern Kurve' on our SPEICHER series.

Steve Moore is widely recognized as one half of Italo Disco-tinged horror-prog project ZOMBI, his numerous thriller movie soundtrack works (The Guest, VFW, Mayhem, Bliss, The Mind's Eye) as well has his clubbier output on Ron Morelli's L.I.E.S. imprint.

The title track of this 4 track EP, "Frame Dragging" sees Moore in full spine tingling mode. In case you've ever stepped into a hot bath on a cold day (in case you haven't you should try it) you should be well familiar with the phenomenon of being incredibly cold and hot at once. That's exactly what 'Frame Digging' does to the dance floor. Goosebump massacre.

"Gamma Quadrant" combines emotive balearic elements with a rolling minimal house track that reminds us of early Playhouse glory. Or is it early Kompakt?

'Gravity Well' and 'Protostar' are both taking a more chilled out route. They perfectly bookend both sides of the record and showcase Moore's stunning ability of creating suspenseful, spaced out beauty.