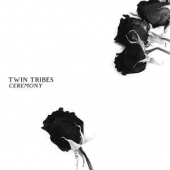 Twin Tribes
Ceremony
Label: Young And Cold Records
Genre: Dark / Post Punk / Gothic / Neo-Folk
Availability
LP + MP3 COUPON €22.99

In Stock
Following the release of the critically acclaimed debut LP Shadows, Twin Tribes has spent the past year touring the United States.
Playing with other prolific acts in the genre; She Past Away, Zanias, ACTORS, Kaelan Mikla, Selofan, and Ash Code, to name a few; they have steadily built their fanbase and reputation as one of the young, up and coming acts in the scene.
Now they set their sights on the release of their sophomore album Ceremony.
A change of pace from the darker, occult themed lyrical inspirations in Shadows, Twin Tribes explore love, loss, pain, life, and death in their subsequent follow-up. The first single Heart & Feather is a beautiful lyrical interplay between light, love, shadow; both danceable and introspectively brooding, with a shimmering melody of hopeful resignation – cursed by the passage of time.