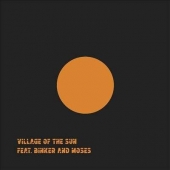 Village Of The Sun Feat. Binker And Moses
Village Of The Sun
Label: Gearbox
Genre: Freestyle / Nu Jazz / Funk / Afro
Availability
12" €17.99

Dispatched within 5-10 working days
"Simply stunning" - Tony Minvielle, Jazz FM

"This is a special one" - Erica McKoy, Worldwide FM

"Incredible... wicked" - Zakia Sewell, NTS Radio

We present a two track-collaboration between the enigmatic Simon Ratcliffe from Basement Jaxx and powerhouse jazz duo Binker & Moses.


Entitled Village of the Sun, this project embodies a hybrid of electronic beats, heady jazz improvisation, and sheer, raw energy. 

Ratcliffe says:

"I've always liked improvised instrumental music. It has this intensity and eccentricity and takes me places. It connects with me deeply and resonates with me far more than traditional 'songs' with words. I approached Binker & Moses with these two tracks, just sonic skeletons really. They gave it flesh and blood - it was just left for me to dress it."



This stylistic crossover breaks new ground with a distinctive mix of Alice Coltrane-inspired spiritual jazz, pseudo-samba rhythms, and dreamy steel pan textures.

Limited edition, die-cut sleeve.