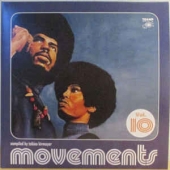 Various Artists
Movements Vol. 10
Label: Tramp
Genre: Freestyle / Nu Jazz / Funk / Afro
Availability
LP x2 + 7" €27.99

Dispatched within 5-10 working days
Christina Aguilera, Donny Hathaway, and Gregory Porter. If you are curious to learn how these three names are connected with Movements Vol.10 then all you got to do is to keep on reading.

Those of you who have been enjoying Tramp Records' Movements series from the very beginning know that this series is not just about funk. It actually covers a wide spectrum of genres: early Rhythm & Blues, Soul-Jazz, Latin-Soul, heavy James Brown-style Funk, and mid-70s pre-Disco. The track listing is, as on all previous volumes, selected in chronological order.

For this, our 10th jubilee album, we go back in time more than 60 years. The Frankie Greer Quartet opens the set with their beautiful composition "Spooky". Just as sweet is "Early in the Morning" by the Bill Beau Trio which was recorded in 1958. What Eunice Haze, Phylis Hendricks and the Eddie Buster Band have in common is the fact that each of them has recorded only one 45rpm single in their musical career.

Johnny Spinosa's "Come On" is a fierce Rhythm 'n Blues monster of the highest order. The same goes for The New Philadelphians. No one would question if "The Mustang" was announced as an unreleased Blue Note recording by Lou Donaldson from 1968. Cleveland Eaton, who became one of the most versatile and best jazz bassists in 1970s, started out with his band The Kats in the late 1960s. "Under the Covers" was arranged by none other than Donny Hathaway (of "The Ghetto" fame) with who he has worked closely together in his early days.

Probably one of the finest and most sought after versions of "Coming Home Baby" out there has been recorded by a german dude and bis band, Ronny Pellers Satin Sound. Another excellent cover version is delivered by The Lido which should leave any latin-jazz fan speechless. "El Mexicano" is an inconspicuous little groover while the next two tunes by Herb Crawford's Jazz Ensemble and The Runningboards are more in the soul-jazz vein. Listen to the dummer on "Louisville Assembly Plant" who goes nuts!

Walt Maddox not only produced The Headliners but also mentored Christina Aguilera in the early stages of her career when she performed regularly as an opening act on his "Wake Up Your Dreams" concerts featuring The Marcels. "Body Wave" is one of those cuts which builds and builds and builds. Wow! Maxwell's "Radiation Funk" became a Rare Groove classic in the 1990s when it was bootlegged several times in the UK. Here you have it with the blessing of the group! And last but not least there is "Oh Linda" by Starfoxx - pure dancefloor dynamite!

Those of you who have been enjoying the detective work of the people behind the label over the past 18 years know that the Movements series can be easily considered as the flagship compilation series on Tramp. So, after having listened to the entire selection of this brand new volume we sincerely hope that we will have achieved our aim to surprise, delight, and enlighten you once again!

Limited edition 400 copies, includes 7"