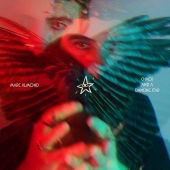 Almond Marc
Chaos And A Dancing Star
Label: Bmg
Genre: Rock / Pop
Availability
LP 180gr €22.99

Dispatched within 5-10 working days
Other Formats
Constantly creative, Marc Almond will release his brand new album 'Chaos and a Dancing Star'. The album was made in collaboration with producer, songwriter and pianist Chris Braide, who also worked on 'The Velvet Trail'. An Ivor Novello winner and a Grammy nominee, Braide's many high profile credits include work with artists such as Sia, Lana Del Rey and Halsey. The duo started writing for the album three years ago, their initial plan for a prog-rock album evolving into something leaning more towards strident pop melodies.

The title informs many of the album's themes, and impermanence is also a recurring topic. It emerges in various forms: mortality in black Sunrise' and 'Dust', as well as saying farewell and leaving a legacy in 'Cherry Tree' and 'When The Stars Are Gone'. The jaunty 'Slow Burn Love' provides light amongst the darkness, with its hope of finding an ever-lasting love rather than one that's "over before you blink your eyes" - a counterpoint to Marc's common premise that love inevitably proves to be a disappointment.

Limited coloured vinyl.